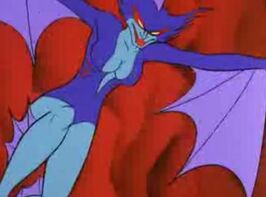 A robot from
Cutey honey
who faces
Honey Kisaragi
in
Episode 12
. She was sent by
Panther Zora
and
Sister Jill
to get the Mermaid's Tear, a jewel of great rarity and worth. As it turns out, she used to be a mermaid by the name of Marara and it was her sister
Chiruru
who was the maker of the Mermaid's Tear. After her sister's murder in the 19th century, she had
Panther Zora
make her an android somehow. She has a ghost ship that she somehow controls and she was using it to kill people at sea. Her powers include swimming abilities and some kind of eye death ray(but it isn't stated if it kills or stuns. We hope it stuns since a woman was hit by hit and the person with her didn't seem that worried), superhuman strength and the ability to control skeletons on her ghost ship. Honey disguises herself as a mermaid for some reason and Sea Panther thinks its her long lost sister but realizes its not a mermaid when they hug. She jumps overboard and summons her ghost ship to kill the boat people so Honey goes to fight her in pirate mode(which we never see again). Honey trys to reason with her but she won't listen and trys to kill Honey. Honey kills her and later drops the Mermaid's Tear in the ocean where we see mermaids holding it(but that may have been in Honeys mind).
Ad blocker interference detected!
Wikia is a free-to-use site that makes money from advertising. We have a modified experience for viewers using ad blockers

Wikia is not accessible if you've made further modifications. Remove the custom ad blocker rule(s) and the page will load as expected.