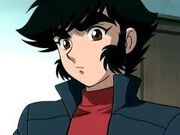 The main character in "Demon Lord Dante". He is a distant cousin of
Koji Kabuto
and
Akira Fudo
, so don't be surprised if they do look similar in any way; he also becomes a Devilman with
Mao Dante
.
He was voiced by Susumu Chiba who also played Seiji Hayami in Cutey Honey F, Sai Fujiwara in Hikaru No Go, Kyo Misumi in Kotetsu Shin Jeeg, Deoxys 1 in Pokémon Destiny Deoxys, Mach in Yugioh ZeXaL, Leon Toros; Sebastian in Zoids and Jetfire/ Rampage in Transformers armada.
Ad blocker interference detected!
Wikia is a free-to-use site that makes money from advertising. We have a modified experience for viewers using ad blockers

Wikia is not accessible if you've made further modifications. Remove the custom ad blocker rule(s) and the page will load as expected.