Naoko Sukeban is a minor recurring character in the Cutie Honey series.
Background
Edit
She is the intimidating boss of Saint Chapel Academy's girl gang, The Sukeban who act as an inofficial campus police force. Despite her rough looks and personality, she has a crush on Honey Kisaragi and is as a result quite jealous of Natsuko Aki.
Appearances
Edit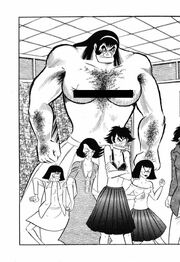 She is introduced when Honey sneaks back into the dorms at night and finds that Natsuko was tied up. Naoko is topless and only in panties and we see that her muscular body also has tons of body hair on it with hair even on her nipples. She tries to raepe Honey as she wants to be with a chick but Honey reminds them they are also chicks. Honey shows her a mirror and she freaks out by how f'd up her reflection is. Later she goes to get her revenge but Honey whips out a 30 inch wiener mirror and it freaks her out again. Later Panther Claw attacks the school and kills pretty much everyone. So yeah, she's dead. Game over.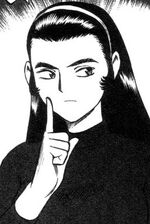 In this manga, she has a massive redesign where she looks a lot more like an actual woman.
This is the first time she has appeared in an anime based on Cutie Honey. In I Am Made For You, she follows Natsuko Aki to a department store and ends up trying to save her from Badfly Claw whers she is almost killed but saved by Honey.
In May Fortune Befall You, she tries to save as many of the Saint Chapel students as possible when escaping with Honey and Natsuko during Panther Claw's attack on the school. She is presumed dead when she sacrifices herself by taking one of Panther Claws bombs directly and pushes Honey and Natsuko off a cliff into a lake. Honey sees Naoko's unconscious body is seen floating in the lake.
In the finale, You Will Return with Hope, Naoko along with her gang are revealed to have survived and are dressed as Cutie Honey along with the rest of the PCIS in Honey's final battle with Sister Jill and Gill Panther. In the end, Naoko returns to the rebuilding Saint Chapel with Honey and has a very dark tan now.
Portrayal
Edit
In Cutie Honey Universe, she is voiced by Romi Park.