Mephist Dance is a curvy demoness from Hanappe Bazooka who works with Ophisto Bazooka to do stuff with Hanappe Yamada. She's cheerful and fun except when p-ssed off and goes demon chick on yo butt! She's cares for Hanappe and in several points, turns human or something(im not sure, I only have the manga in Japanese). She's got several various powers and looks totally hot with those curves and just barely covered areas(which is kinda even hotter than just going full on nude)
someone fill this in. Have fun watching the video. its nuts!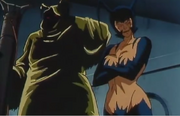 Ad blocker interference detected!
Wikia is a free-to-use site that makes money from advertising. We have a modified experience for viewers using ad blockers

Wikia is not accessible if you've made further modifications. Remove the custom ad blocker rule(s) and the page will load as expected.