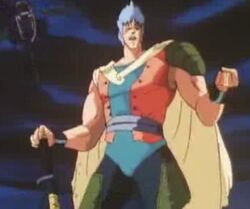 A dude who works under
Harlem Bomber
. He suggests that they report the Jack sighting to the
Slum King
but
Harlem Bomber
says since it was only one man that they can handle it(spoiler...THEY CAN'T. but that was easy to see). Later he tells
Kenichi
that he(Ken) was late and complains that sending all those yakuza/biker gang members to get one dude is useless and stoopid(Chuck norris was one man and look at him). He leads an attack on
Trench Town
(it was his idea too) to make Jack come out(not like lance bass but like...the other come out) and gets mad when he can't find
Violence Jack
(and seems to have a bit of tourettes in the dub). Suddenly, Jack rips out of the ground and Laser's men open fire and kinda nail each other. He gets mad at them for getting scared and then screams in terror as Violence Jack violently Jack knifes him in the head and yanks it out(spraying blood like a sprinkler or a hose). Yeah he didn't do much.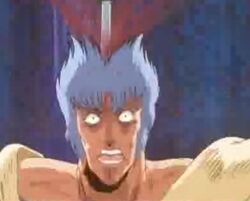 Its worse than tourettes guy. Atleast T-guy made some sense and didn't just say random swear words.
Ad blocker interference detected!
Wikia is a free-to-use site that makes money from advertising. We have a modified experience for viewers using ad blockers

Wikia is not accessible if you've made further modifications. Remove the custom ad blocker rule(s) and the page will load as expected.