Koji Kabuto
Talk

0
159pages on
this wiki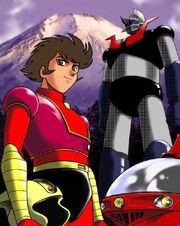 Koji Kabuto (Kabuto Kôji), also written as Kouji Kabuto, is a fictional character featured in the works of manga artist Go Nagai. He is the main character of the Super Robot series Mazinger Z and pilots the title robot. He reappears in the sequel Great Mazinger and helps battle the Mikene Empire. He also features in UFO Robo Grendizer as Duke Fleed's friend and sidekick.
Kouji was an ordinary High School student who lived with his little brother Shiro and his grandfather Juzo after their parents' death. All of it changed when he was sixteen and his grandfather was murdered by Dr. Hell. Dr. Kabuto revealed Mazinger Z to him and requested him to save the world from Dr. Hell. Kouji vowed he would avenge his grandfather's death and fulfill his last wish.
Kouji was an atypical main character back then: although he was a mostly good person, he might be rude, insensitive and even somewhat of a jerkass when he was angry, sexist and the poster boy for Idiot Hero given his tendencies to be loudmouthed, talking without thinking, acting BEFORE and INSTEAD of thinking and being very hotheaded and stubborn. However he was also compassionate, caring, friendly, self-sacrificing, cared greatly for his friends and fought for them-– even though he constantly teased Sayaka and Boss— and he was utterly hot-blooded.
His character evolved and developed somewhat along the series. His blatant sexism and his impulsive tendencies mellowed down a bit (it is telltale in Great Mazinger he was the one recommended using planning and strategy for fighting the Mykene when Tetsuya wanted nothing else than blowing them up to pieces). He also grew up and matured, and his main motivation to fight Dr. Hell became protecting people instead of petty revenge. Although he refused giving up, he was more willing to follow orders and retreat to reevaluate the situation and fight back than his successor, Tetsuya. However, in the Mazinger Z vs Great General of Darkness movie he refused giving up and backing down, even though he knew he could not win.
He is voiced by veteran seiyuu Hiroya Ishimaru and has appeared in many other series. He is considered one of the stalwarts of the Japanese-exclusive strategy games the Super Robot Wars and appears in nearly every incarnation. In Shin Mazinger Shougeki! Z Hen, his voice is played by Kenji Akabane.