For the male lead in Violence Jack Harlem Bomber see ""Kenichi""
Kinichi is a little f-ggoty kid from Violence Jack who lives in Section A after the quake. He wears a yellow top with a big nck hole like they did in the 80s, with either a wife beater or bra under it with straps showing and brown pants with 1 leg open from the knee down. Oh and he don't show up in da manga. Its just Kurata eating ham.
What he does
Edit
In
Violence Jack Evil Town
Kurata
and him steal a big piece of ham and they hide to eat it. He whines about the piece Kurata cuts him being too small as he did most of the work. Instead o eating it, they bicker and
Kawamori
and friends show up. He begs for his life but Kawamori is gonna slag em both for stealing(what is this?! 1600s Japan?!). Kurata has Him turn out the light but Kawamori caps him. I think in 1 dub Kawamori wants to use his body (oh F no!!) as a warning to others(oh good! I thought he was gonna f the body!)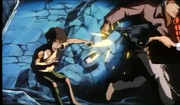 Ad blocker interference detected!
Wikia is a free-to-use site that makes money from advertising. We have a modified experience for viewers using ad blockers

Wikia is not accessible if you've made further modifications. Remove the custom ad blocker rule(s) and the page will load as expected.