A dude From Violence Jack who acts like a hentai villain at times but isn't that bad (in the manga). He enjoys doing terrible things to women. Not to be confused with the guy who made Macross.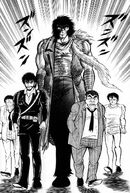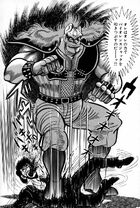 He was a (mall)cop who was in the building that sunk into the ground and became Evil Town. When it looked like they weren't going live long underground he (and the rest of the men) started raping the supermodels who would later become Section C. After Section C split off, Sections A and B lived for six months underground and then Violence Jack was dug up from a stone wall. Kawamori shows him around and when Section B shows up they talk until Section C shows up and reveals that the men of Section A and just as bad as the bikers of Section B so Jack joins Section C. Later, Mad Saulus and his gang start killing off Section A along with the leader of Section A so as to show his joining of Mad Saulus (in the anime he also killed some other people including an unarmed man). In the manga, he is then stepped on by Mad Saulus like the cockroach he is and killed as can attempted peacemaker.
Anime Extended Actions
Edit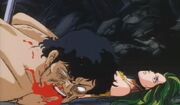 In the anime, after he joins
Mad Saulus
, he catches up with Section C and distracts
Rikki
by going into the shadows and peeing and Rikki leaves the group to check it out. After she sees him peeing she turns away and gets gang shanked by Section B. The Men (and lesbian
Tom Cat
) rape
Aila Mu
. While doing so,
Blue
stabs him in the back (literally) and kills him (in that order).
Ad blocker interference detected!
Wikia is a free-to-use site that makes money from advertising. We have a modified experience for viewers using ad blockers

Wikia is not accessible if you've made further modifications. Remove the custom ad blocker rule(s) and the page will load as expected.