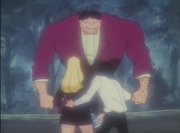 Kaidomaru is a big buff black Japanese guy from Iron Virgin Jun who works for Jun's Mom. He tries to bring Jun Asuka back to the party after she runs away cuz she don't wanna get married. After Jun's aunt Fuzuki talks with her and Kurata Ohnami, Kaidomaru shows up. Jun runs and he chases her. Offscreen he somehow tackles a wall and busts a hole in it because of Jun. That's all he does. wtf! He could've been a good level 2 boss if this were a video game. Someone make a 8 or 16 bit fan game of Iron Virgin Jun. C'mon! Do it! It'll help Media Blasters raise awareness of their official release. And it would be pretty fun.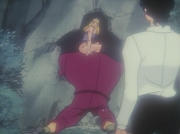 Ad blocker interference detected!
Wikia is a free-to-use site that makes money from advertising. We have a modified experience for viewers using ad blockers

Wikia is not accessible if you've made further modifications. Remove the custom ad blocker rule(s) and the page will load as expected.