Houjou Souun (北条早雲), Hōjō Sōun, Hojo Soun or Souun Houjou and similar variations, is the name of an historical manga created by Go Nagai & Dynamic Pro based in the first head of the Houjou clan in the Sengoku period Hōjō Sōun.
Manga information
Edit
Title: Houjou Souun (北条早雲)
Original run: 2004-12-17 ~ 2005-05-05
Original magazine/publication: Zoukan Ran TWINS Sengoku Busho Den (増刊乱TWINS戦国武将伝)
Original publisher: LEED Publishing Co., Ltd. (リイド社)
Tankonbon
Edit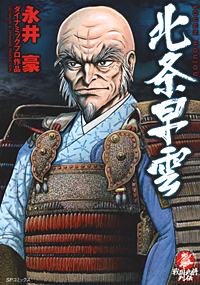 Tankonbon number: 1
Date: 2005-11-24
Publication's line: SP Comics (SPコミックス)
Publisher: LEED
ISBN-10: 4845829010
ISBN-13: 978-4845829019
External links
Edit
Ad blocker interference detected!
Wikia is a free-to-use site that makes money from advertising. We have a modified experience for viewers using ad blockers

Wikia is not accessible if you've made further modifications. Remove the custom ad blocker rule(s) and the page will load as expected.