Basic Info
Edit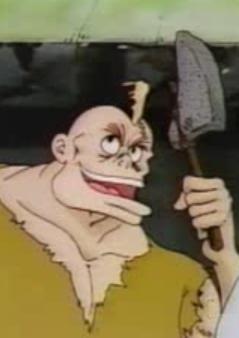 He is a human male from
Abashiri Family
who teaches at St. Paradice School. Like most teachers at there, he is a
psycho killer
and likes beheading
people
with an Axe or Tomahawk or something like that. He has a dark mohawk and a scar on the left side of his head and wears a yellowish sleeveless tunic like thing that covers about as much leg as a Sailor Moon miniskirt (well, a bit more actually) with a belt and sandels. Oh and he is muscular like the Hokuto no Ken dudes.
What he does in the anime
Edit
He appears in OVA 3 and is the one who chopped off Chidoro's head/part of arm and carrys the arm piece with hand in his mouth. He does nothing of interest brfore or after he wacks Chidoro and doesn't even have any background scenes or cameos in the OVA's.
Ad blocker interference detected!
Wikia is a free-to-use site that makes money from advertising. We have a modified experience for viewers using ad blockers

Wikia is not accessible if you've made further modifications. Remove the custom ad blocker rule(s) and the page will load as expected.