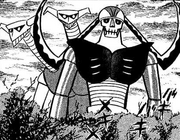 Garada K7 is one of
Dr. Hell
's Mechanical Beasts. The big skeleton looking guy wassent to destroy Japan alongisde
Doublas M2
only to get completely wrkd by Mazinger Z in only a few pages. Despite going out like a chump, Garad is without a doubt the most popular Mechanial Beast and has been in almost every incarnation of Mazinger since that point. He's even been reimagend as a teenage girl. Twice.
Ad blocker interference detected!
Wikia is a free-to-use site that makes money from advertising. We have a modified experience for viewers using ad blockers

Wikia is not accessible if you've made further modifications. Remove the custom ad blocker rule(s) and the page will load as expected.